Madison, our logo designer, is sharing incredibly useful Facebook hacks in this post. These seriously save a ton of time and frustrations when it comes to using Facebook.
Facebook has always been a fairly controversial social media platform. Like a lot of social media sites, you either love it or you hate it. With so many changes over the last few years, Facebook has definitely made it's fair share of enemies. Being a blogger and business owner, I use Facebook more for my business life than I do for my personal life. Because of that, I've had to learn a few tricks along the way to help improve the way I use Facebook. There are actually so many built in features that Facebook has created that make using it for business or personal use so much easier. Let's see how many of them you already knew!
+ Saving Links
This is the biggest tool I use on Facebook! If you've ever scrolling through your news feed and see something you want to read but can't at the moment, you can save the link to read for later! To save a link, you simply click on the arrow in the top right hand corner of the post in your news feed. The drop down menu will have "save link."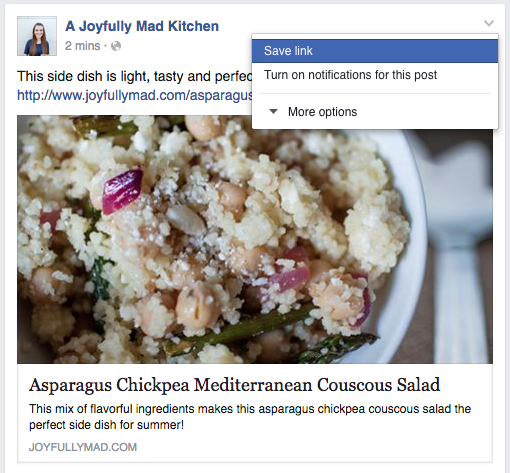 To find your saved links later, look at the left hand sidebar of your newsfeed. There should be a section called "Favorites" and Saved will be under that. There you can see all the links you wanted to save for later.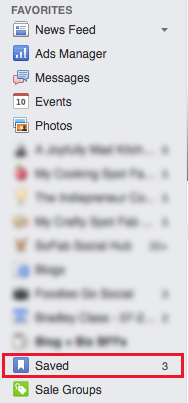 + Unfollow a page or person
I tend to see a lot of old high school "friends" posting on Facebook about random political, personal or religious things that I have very little interest in. Sometimes I'll unfriend them but other times, I just don't really want to see their posts showing up on my news feed. To stay friends with a person, but get rid of their content on your news feed, you simply unfollow them!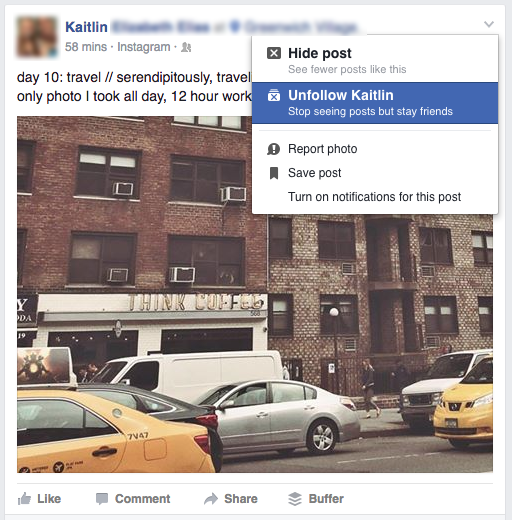 This also works for unfollowing a page.
+ Turn off post notifications
When scrolling through my news feed there are often times I'd like to comment on a post of a friend's but don't want to continue getting updates about it later. Luckily, there's an easy way to turn off future notifications for a post so that you won't receive any updates, unless someone tags you or replies directly to your comment.
+ Subscribe to page notifications
This is kind of the opposite of unfollowing a page, but if you follow a page that you want to make sure you don't miss any updates (maybe a favorite shop or blog), you can easily get a new notification every time they post. The best part is that you will only receive one notification, even if there are 15 updates since you last checked your notifications. It will just read "A Joyfully Mad Kitchen has 15 new updates."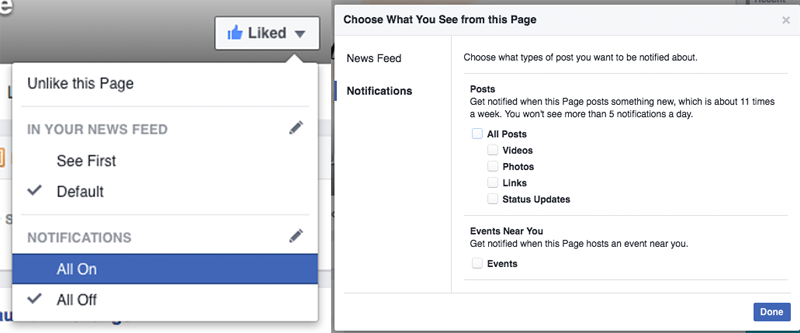 To subscribe, go to any page you like or want to like. Click like, if you haven't already, and you'll see a drop down arrow. Hover over the "Liked" button and you'll see a notifications section. You can select all notifications or click the pencil icon to select which types of updates you want notifications for (videos, status updates, links, photos, etc.). I also really love that Facebook will tell you how many times the page usually is updated per week, so you know what to expect.
+ Create interest lists
If you have a group of similar pages that you want to see updates from at the same time, creating an interest list is a perfect way to do that. For example, if you want to be able to browse the blogs you follow all at once when you have down time, create an interest list by going to this page while you're logged into Facebook. Then click "create list" to get started!
You'll be able to see your "interest" lists anytime on the lefthand sidebar.
+ Create or join groups
If you often interact with friends via Facebook, you might consider creating a secret or private group to share information and communicate. For me, I'm in a lot of blogging groups, recipe sharing groups, and mama groups. These are fun ways for me to interact with others via Facebook without having to always rely on my news feed to give me updates. A few of my favorite groups are FBC Recipe Sharing (5k+ members), Ladies with Babies (super helpful for new mamas!- 6k+ members) and Cooking 101 Basics (1ok+ members). There are literally thousands of groups out there for just about every interest type. Visit this page to browse through some based on your interests.
+ Use Messenger
There was some controversy when Facebook introduced it's separate Messenger app, and I'll admit I wasn't a huge fan at first. But, what I've realized is the Messenger app is actually great for keeping me on track with my to do list. If I have to look at the Facebook app to see a message from someone, I'm 100x more likely to get distracted by something on my news feed. But if I only go to the Messenger app, I won't see anything besides my messages.
There's also a desktop version of Messenger, which I recently discovered from a friend, which is great for staying off Facebook when you need to focus as well!
+ Sort your news feed
If you feel like you never see updates in real time, it's because you probably don't. There are two ways to sort your news feed, by time and by "popularity" for lack of a better phrase. By default, your news feed is usually sorted by the updates that have the most interaction, which is usually okay. But sometimes you want to see more updates and the most recent updates is more helpful.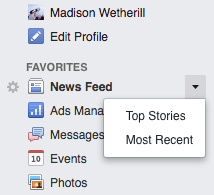 To toggle between these two options anytime, click the drop down arrow next to News Feed on the lefthand sidebar.
+ Custom privacy for news feed update
Ever wanted to share something but your grandma has Facebook and you don't want her to see? Or maybe a better way to say that is, ever wanted to share something to just a few people? With custom privacy share settings, you can choose to exclude certain people from an update or create a list of specific people to show an update to.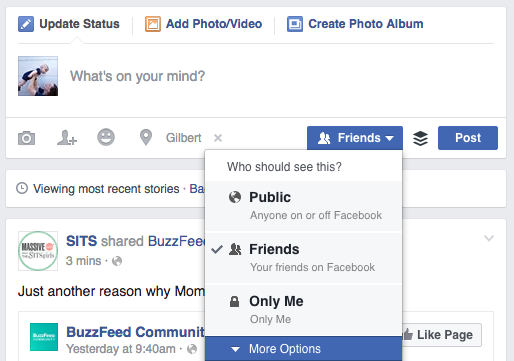 When updating your status, click the "Friends" or "Public" icon, depending on your default setting. Then go down to where it says custom. You'll be able to adjust the settings to add people or hide the posts from certain people.
+ Embrace the algorithm
As a business owner, I spend a lot of time (probably too much time) trying to figure out how to get my audience to see my posts. The Facebook algorithm (or, the brain power behind who sees your updates) is constantly changing, or so it seems from a business owners perspective. The one thing I can suggest is if you aren't seeing the things you like to see on your news feed, it's because you're not interacting with the pages/people sharing the content you want to see. So as you're going through your news feed, or your new interest lists, or even in the new group you just joined, interact! Like statuses, comment (turn off post notifications if you don't want reply notifications!) and share the content you enjoy. This helps Facebook understand what you want to see and helps them to show you more of it.
Are there any other creative ways you use Facebook?
Madison is the owner and designer of Grace + Vine Studios, a web and blog design studio. She works with passionate business and blog owners who are ready to take their businesses and blogs to the next level. She lives with her family in the sunny Phoenix, Arizona area.